It's Ireland – Anything can happen
That's what Ed, our driver guide for Belfast, said. And oh, how right he was! When the forecast said it would rain – the sun shone. When it was supposed to be sunny – it rained. But, most of the time we had both rain and sun when we were supposed to have neither. All in all, the weather wasn't that bad during our stay, although I wouldn't describe it as warm or enjoyable. However, some students still decided it was the perfect weather to go for a swim … in the sea. Only 3 of us were quick enough to actually make it into the water, the rest were stopped before they could follow. So they had to stand on the beach, completely dry (having failed their mission), only in their underpants, being laughed at by many tourists, and listening to the teachers scolding them. And yes, there are pictures! Still, this whole incident wasn't the most unfortunate moment of our journey: On our first day actually, after arriving in Dublin and meeting our host families, we went on a walk through the city, just so we'd know our way around the most important places. When we reached St. Stephen's Green, a beautiful park in the centre of Dublin, one student said something she would regret deeply. "It'd be so funny, if a bird would sh*t on you right now", she told a fellow student. And just as she had finished this sentence, a bird, indeed, fulfilled her prophecy – just on her instead of him. But was walking around a public park soiled by a bird the weirdest experience of our journey? Well, for her, maybe. But actually, I don't think so. Personally, I think the persistence of yet another student was far weirder but also kind of impressive. Are you familiar with the "Pretuler Polka"? No need to ask anyone in Dublin that question because I'm sure they aren't. This student I mentioned decided to try and annoy us with this particular tune and played it wherever we went: On the bus, during our cliff walk in Howth, in our English classes and even set it as an alarm – so yeah, it was pretty much everywhere. It was irritating after the 100th time, but it did make Dublin feel a lot closer to home. Speaking of home, there were a lot of things the Irish did and still do that differ from our Austrian habits. For example, no matter how hard you search, you will not find a single store in Dublin that sells brown bread. It's just white bread – anywhere and at any time.
Also, something that troubled maybe one or two students at best, was that in Ireland the legal age of drinking is 18 – yet only one of us was 18 then. So here we were – visiting whiskey distilleries and Guinness Storehouse and we couldn't try a single drop. Some might say now, that you haven't experienced Ireland properly without, well, whiskey and Guinness so to say, but I dare say we still experienced a fair share of traditional Irish things: On our second day we got the chance to try Gaelic Games, or to be precise, Hurling. For anyone not knowing what Hurling is, it's almost like field hockey just a lot more exhausting. Another "sporty" activity we all thoroughly enjoyed was the Irish Dance Party, where we learned some basic Irish dance steps and got to listen to traditional Irish instruments and more-or-less traditional Irish songs. Although the sing-along part for the songs didn't quite work the way the musician wanted to, we all had our share of fun during the dancing – especially our teachers, who (just like us) almost roared with laughter looking at some very confused faces and adorably wrong dance steps. So, as you see, our trip was a lot of fun, but we also had a pretty packed schedule, with a day trip to Belfast, where we went to the Titanic Museum. We visited Malahide and Dublin Castle, saw some mummies at the St Michan's Church crypts, went on a cliff walk in Howth and had a tour through the Butler's Chocolate factory and around the Jeanie Johnston famine ship. But we also went to school every day, from 9 to 12.30.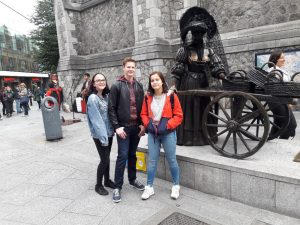 Some of the things we learned are: words like "rambunctious", "shenanigans" and "whacky", Irish history, some idioms, and loads of history. But during our time we did not only learn stuff in school. There were so many learning experiences, from staying with a host family and having do adapt to a new culture to learning how to get around a city on your own, but also that you have to check where you're going, when you're riding a bus, so that you don't end up at the airport or that you have to check your bags before you leave, so you don't forget your passport when flying home. But, I think, one of the biggest things we all learned was how to work as a group. The trip was so much fun because we all got along so well and had so much fun on our own while doing super boring stuff like taking the bus or going out to eat (in a group of 9) – it was just a wonderful time with wonderful people in a wonderful city
(
weitere Bilder in unserer Galerie
).
Autor: Christina Stritzl 7B
Language trip to Dublin with Mrs Kohlhofer, Kröppel and Vidovics and almost a hundred per cent of the 7A/7B students